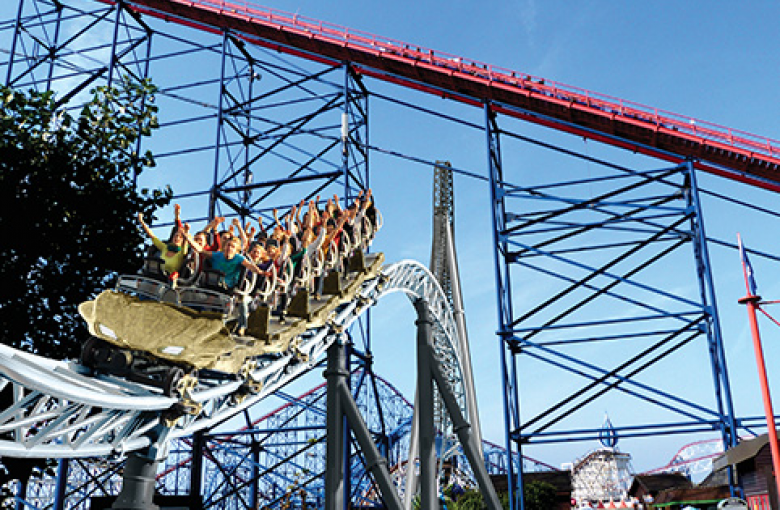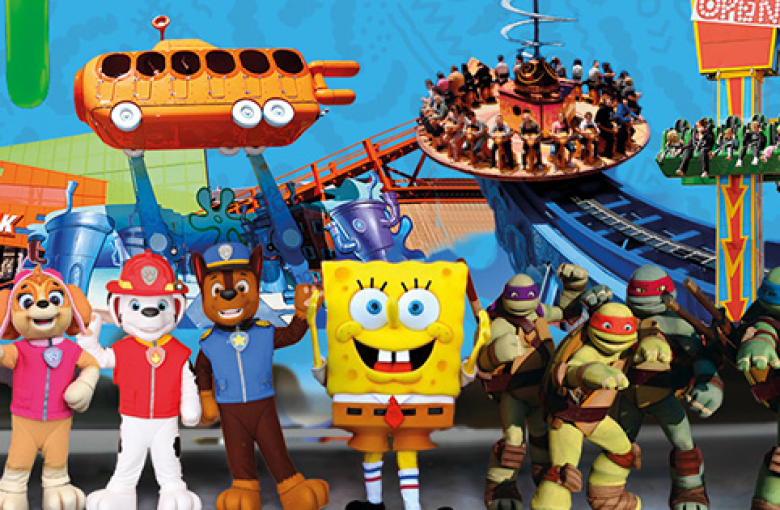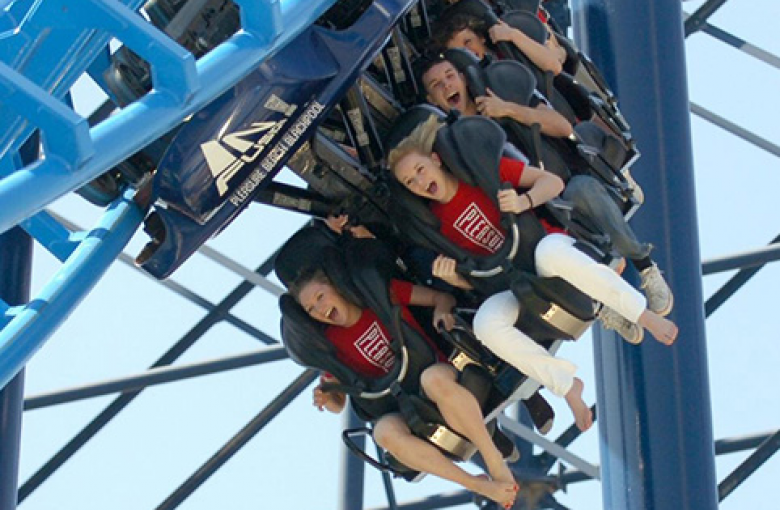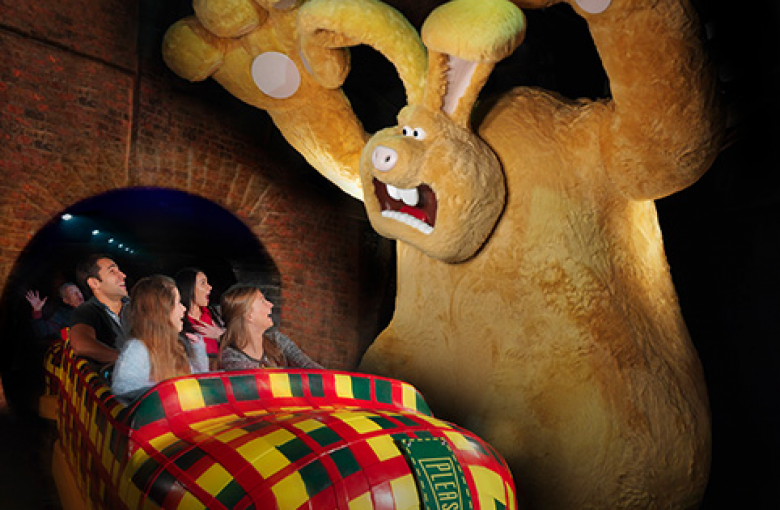 Coming Soon – ICON The Ride
Due to launch in spring 2018, riders will be taken to places they've never been before whizzing through legendary rides including the Steeplechase, Big Dipper and Pleasure Beach Express, for a thrilling experience they'll never forget.
ICON will be the UK's first ever double launch rollercoaster, giving adrenalin junkies two powerful thrusts of acceleration during the ride and is set to reach heights of 88.5ft, with drops of up to 82ft.
THE UK'S MOST FAMOUS THEME PARK
Enjoy a thrilling day out at one of the UK's favourite theme parks! The award winning Blackpool Pleasure Beach is one of the ideal family days out with some of the most exciting theme park rides, attractions, and shows.
An amusement park with a unique blend of legendary rides and famous shows which make fun packed days out with the kids. With so much to do you'll have to split your time between 125 rides and attractions!
There's Nickelodeon Land and its 12 exciting rides across the fantastic worlds of some of the world's most popular cartoons, including SpongeBob SquarePants, Avatar Airbender, Dora's World Voyage, and Rugrats Lost River. There are also family theme park rides for all ages, like Wallace & Gromit's Thrill-O-Matic, Tea Cups, Thompson Carousel, Dodgems, Go Karts, and a super scary Ghost Train.
If you're after pulse racing action then your inner adventurer can head over to our thrill rides. Blackpool Pleasure Beach is famous for its exhilarating selection of head spinning roller coasters, including the world famous The Big One, the Big Dipper, Infusion, Valhalla, Ice Blast, and our thrilling latest addition Red Arrows Skyforce.
IMPORTANT - CHILDREN UNDER 2 YEARS: Child wristbands are available to all children up to the age of 11 years and should only be purchased for under 2 year olds if they want to access suitable rides and Nickelodeon Land. If a child under 2 years old is a non rider then it is recommended to NOT purchase a child wristband from the below and instead they will receive 1x complimentary Pleasure Beach Pass for park entry only. This DOES NOT allow access to any rides. If a child under 2 years would like to access a select number of rides on the day, individual ride tokens can be purchased within the park. Younger guests who want to access the rides must be able to walk independently.
Late Night Riding & Fireworks will be back for 2018!
Enjoy the fantastic atmosphere as the park sparkles and shines in the dark!
Ride into the night on the UK's tallest rollercoaster, the Big One, check out the twists and turns of Infusion at twilight, enjoy a night race on the Grand National and take a night flight into dusk on the Red Arrows Skyforce.
From 10pm the skies will be lit up by amazing fireworks displays on each of the Late-Night Riding nights – each with its own unique musical theme. As the rides close guests can watch in delight and take in the spectacular displays to round off a fantastic fun-filled day out!
2018 Dates include:
Saturday 2 June
Saturday 7 July
Saturday 28 July
Saturday 11 August
Saturday 25 August
Saturday 22 September
Saturday 27 October
Saturday 3 November
Did you know?
You can enjoy the whole fun filled day with an Unlimited Ride Wristband which includes the full Fireworks display.
Some rides will close from 9pm due to the fireworks exclusion zone. Fireworks display is subject to weather conditions for safety.
1 Day Wristband:
Adult £39.00
Child £33.00
Ripley's Believe It Or Not!
(included as a standalone ticket on the ticket panel or within the Adventure Package only - general Pleasure Beach wristbands do not include entry to Ripley's)
Discover a unique collection of strange, unusual and extraordinary exhibits as you journey through eight themed galleries, across two amazing floors and witness the astonishing world of Ripley's Believe It or Not! on ten screens.
Hundreds of exhibits of the odd, the unusual and the just plain bizarre – Seeing is Believing !
Featuring animal oddities including the two headed calf, the world's smallest production car, New Guinea sacrificial figure and the authentic African fertility statues.
SO, WHAT'S INSIDE?
The only place in Blackpool where you'll find shrunken heads, the fertility statue which has had over 1,000 confirmed pregnancies, a 2 headed calf, a portrait of Princess Diana made out of 2,500 penny coins, all of which only scratches the surface of what's behind the doors of Ripley's.
ADVENTURE GOLF
(included within the Adventure Package only)
The attraction boasts brilliant landscaping, bright lighting, waterfalls, streams and its very own clubhouse selling refreshing drinks. Look out for the water hazard on holes 11 & 6, and tackle the figure eight spectacular on hole 9 – a first to the UK!
Each hole offers unique hazards ranging from jumps and bumps to rivers and underground tunnels, all adding to the fun of the game. Both beginners and experts are catered for with different levels of difficulty to tackle on each hole!
There is no height restriction. Some holes are accessible to wheelchair users.
Carer Tickets Policy
1x FREE carer ticket (non-rider entry i.e. does not permit access to rides) is provided per paid ticket when accompanying guests with disabilities.
Relevant Carer ID needs to be shown on arrival in exchange for free entry
Carer Tickets do not need to be pre-booked/pre-advised at the time of booking via Attraction World.
Please Note: If the accompanying carer requires access to all rides then they must purchase the child wristband regardless of their age and also present their carer's staff ID locally to receive the 'concession' discount
Disabled Guests Info:
If a disabled guest requires entry to all rides then they must purchase the relevant adult/child wristband – no discount available
If however only certain rides are suitable for a disabled guest then it is recommended to purchase entry locally as the park sells a 'Pleasure Beach Pass' for entry to the park (no rides included) for £6 and also tickets for individual rides again payable locally
Ride Them If You Dare!
There's so much to do at Blackpool Pleasure Beach, it's hard to know where to start!
| | | |
| --- | --- | --- |
| Thrill Rides | Family Rides | Nickelodeon Land |
| Avalanche | Alice Ride | Avatar Airbender |
| Grand National | Alphine Ralley | Backyardigans Pirate Treasure |
| Ice Blast | Chinese Puzzle Maze | Bikini Bottoms Bus Tour |
| ICON - The Ride | Derby Racer | Blue Flyer |
| Infusion | Dodgems | Diego's Rainforest Rescue |
| Red Arrows Skyforce | Eddie Stobart Convoy Ride | Dora's World Voyage |
| Revolution | Flying Machines | Fairy World Taxi Spin |
| Steeplechase | Gallopers | Krusty Krab Order Up |
| The Big Dipper | Ghost Train | Nickelodeon Streak |
| The Big One | Grand Prix | Rugrats Lost River |
| Valhalla | Impossible | SpongeBob's Splash Bash |
| | Pleasure Beach Express | Wonder Pets Big Circus Bounce |
| | River Caves | |
| | Thompson Carousel | |
| | Wallace & Gromit's Thrill-O-Matic | |
Food & Drink
Dining at Pleasure Beach is as varied and exciting as the attractions.
There's an amazing choice of food from around the world to choose from Italian, Chinese, English and American. Whether it's fast food or fine dining, a quick bite to eat while on the go, or a sit down three course meal, Pleasure Beach caters for all tastes.
We have number of restaurants and venues available for private hire that include the Paradise Room, The Horseshoe, The White Tower Restaurant, The Attic Roof Top Lounge. All have their own bar and links to the kitchen to host a fantastic event. Contact our corporate department for further details.
Ticket Information
Opening Days: Generally opens daily between April-October, Saturday & Sunday during November-March. The attraction opens when the theme park is open.
Opening Times: 10am. Closing Time may vary, please call 01253 341033 Ext. 1286 for further information.
Address: Ripley's Believe It Or Not! Blackpool, Units 5&6 Ocean Boulevard, Pleasure Beach, Blackpool FY4 1EZ. Car Parking: Blackpool Pleasure Beach (located next door) has ample car parking space onsite. Prices are set per day and range between £7-£10 per car depending on whether peak/off peak periods.
Additional Information: Entry tickets for Blackpool Pleasure Beach are not required when visiting Ripley's Believe It Or Not! Blackpool. Ripley's is located outside of the theme park on the promenade with a separate entrance to gain admission into the attraction.