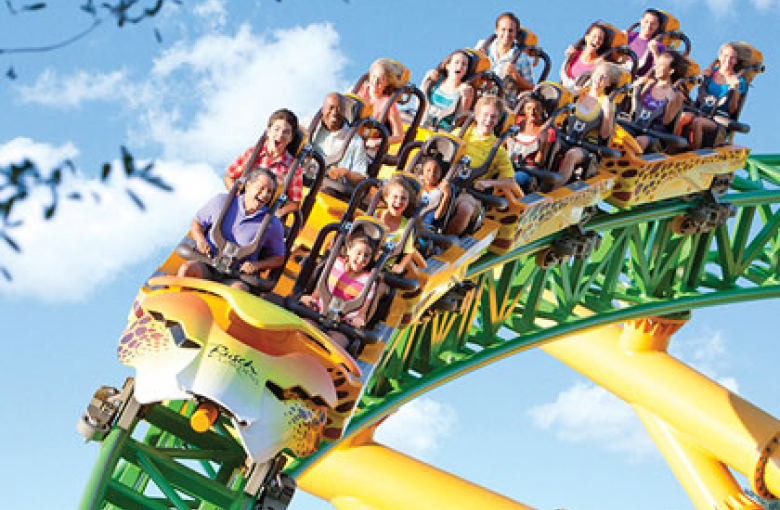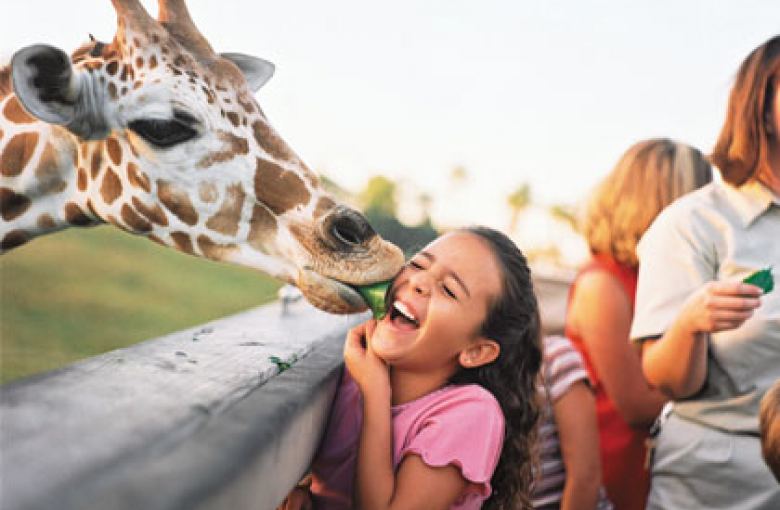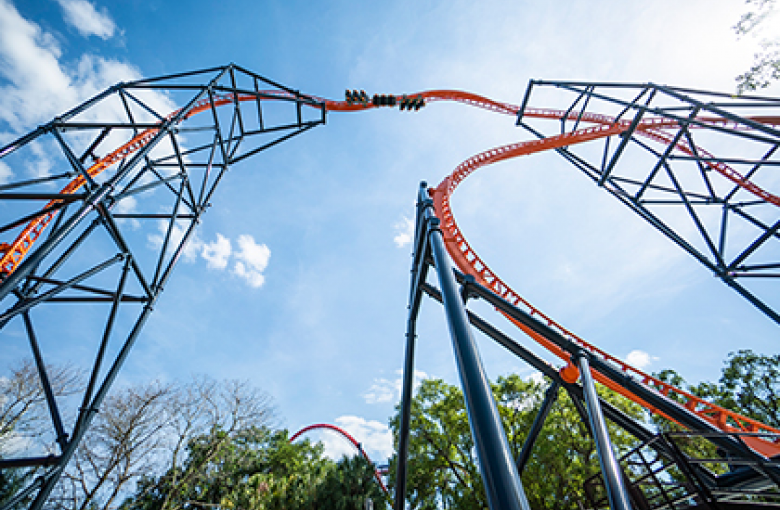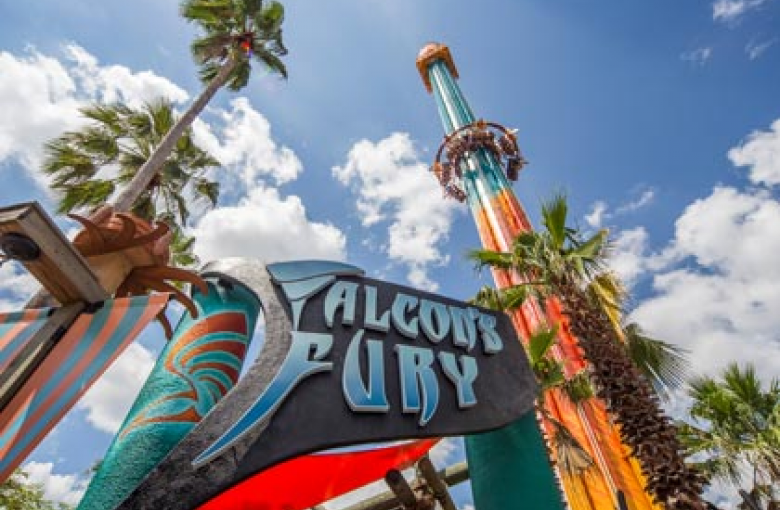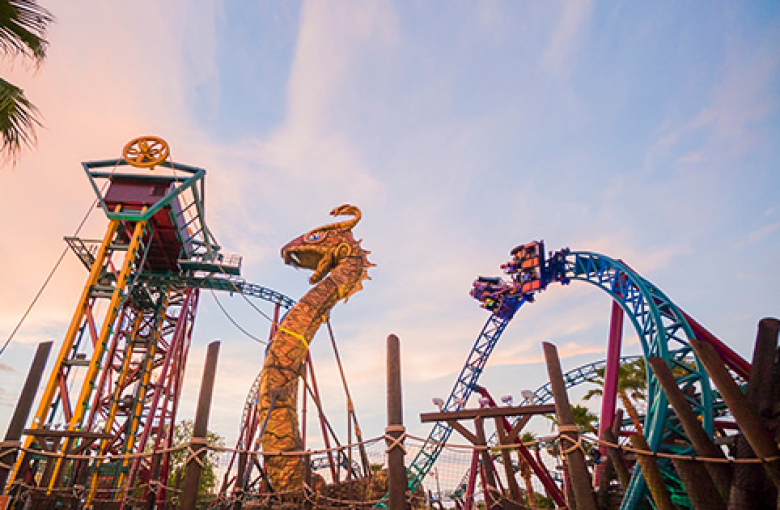 Busch Gardens, Tampa's incredible 335 acre adventure park, is home to thrilling rides, daring rollercoasters and nearly 3,000 African animals in some of the most beautiful landscapes outside Africa itself!
...And experience Montu® - one of the tallest, longest and craziest inverted rollercoasters in the world! Our great value Busch Gardens tickets offer the chance for a real-life adventure, allowing friends and families of all ages a taste of an African Safari combined with exhilarating thrill rides, animal encounters and stunning African themed live shows.
Experience Sesame Street Safari of Fun! This sunny, funny playland features Elmo, Big Bird and all their friends and is filled with rides, shows and adventures, just for the little ones. Features include a splashy flume ride, junior coaster and much more!
Cheetah Hunt and the Cheetah Run - come and experience a new breed of speed only at Busch Gardens. The Cheetah Run puts you just a whisker away from the world's fastest land animals, then on Cheetah HuntSM experience the unmatched speed and agility of the cheetah for yourself.
COMING SOON! Florida's thrill leader, Busch Gardens® Tampa Bay, puts a new SPIN on family thrills in 2017 with Cobra's Curse™! This isn't your ordinary spin coaster. This one-of-a-kind family spin coaster takes riders on a whirlwind of family fun and an adventure of exciting explorations. After ascending on a vertical lift, just like an elevator, riders will come face-to-face with an 80-foot snake icon and trek over the park's Serengeti Plain®.
PLUS! Don't forget to check out our Serengeti Safari Tour which makes a great add on to your Busch Gardens experience. Or perhaps you want to visit Busch Gardens but don't want to waste time queuing? Then why not add on our Busch Gardens Quick Queue and enjoy front-of-the-line access!
PLEASE NOTE - In order to make way for a new attraction at Aquatica, HooRoo Run will close permanently on 31 October 2017. To accommodate construction, Walhalla Wave will temporarily close on this date and re-open in spring 2018 alongside Ray Rush.

© 2016 SeaWorld Parks & Entertainment Inc. All rights reserved.
™/© 2016 Sesame Workshop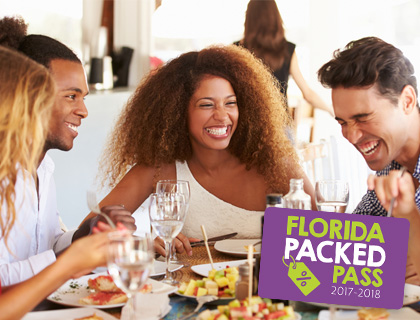 Make huge savings in Orlando with our EXCLUSIVE freebie!
For a limited time only, we're giving away a FREE Florida Packed Pass e-card with all key Florida parks bookings. The Florida Packed Pass gives you massive savings on dining, shopping and activities at over 100 different venues in Florida!
Each e-card can be used for up to 4 people, as many times as you like! Just flash your card and watch the $$$'s drop off...
Tell me more...
Your customers will automatically receive the free e-card with their e-tickets when they purchase any of the following:
Walt Disney World Resort in Florida

Universal Orlando Resort™

SeaWorld® Orlando

Aquatica™ Orlando

Busch Gardens® Tampa

Discovery Cove® Orlando

Our combo tickets are also included!
Want to check out all the deals and offers available? Follow this link www.floridapackedpass.com
For full details, and to download our offer poster, please CLICK HERE >
T&C's: Valid on all 2018 bookings. 1 card per booking.1 card is valid for up to 4 people only. Limited stock offer.
NOW OPEN - Falcon's Fury
Busch Gardens Tampa is taking guests' experiences to new heights with Falcon's Fury, the first drop tower of its kind in the world, mimicking the dive speeds of the fastest animal on earth.


Falcon's Fury stands at 335 feet (102 metres) and take riders plunging 60 mph straight down. At the ride's highest point Busch Gardens has added an element of surprise. Like its bird of prey namesake, riders will pivot 90 degrees in midair to a face-down dive position. An instant later they'll plunge 60 mph straight down with speed and power like they've never experienced.


With no connecting structures, it is the tallest freestanding drop tower in North America and passengers will be able to see as far as St, Petersburg Clearwater.
Animal Care Takes Centre Stage at Busch Gardens
Busch Gardens in Florida will open its veterinary doors for the first time ever to guests to observe and even take part in procedures at its new Animal Care Center opening 23rd January. From nutrition to treatments, X-rays to surgeries, much of Busch Gardens' animal care will be conducted in guest view in this new state-of-the-art facility.


Free with park admission, it will allow guests to experience what it's like to work on the wild side, getting up-close and hands on with a host of furry and scaly creatures.
Animal Encounters
Busch Gardens 335 acres include free-roaming animal reserves and plains just waiting to be explored. Take the Skyride for a birds-eye view or travel around the Serengeti Plain on the fun Serengeti Express Train. Enjoy Rhino Rally®, see gorillas in the mist at the Myombe Reserve® and take a self-guided tour through to the Edge of Africa® to see lions, hyenas and meerkats up-close. Visit the village of Jungala and encounter some of the world's most endangered species including white tigers and orang-utans.
Rides at Busch Gardens
There are an array of exciting rides at Busch Gardens, from water rides and bumper cars to carousels and an unparalleled 6 rollercoasters! - more than any other theme park in Florida. The longest, tallest inverted coaster in the world, ride the floorless dive-coaster SheiKra®, which lifts you to a dizzying 200 feet above Tampa Bay...and then drops you at a terrifying 70mph!


Drop hundreds of feet into Kumba's® diving loop and know what it feels like to be weightless. Get close to Gwazi®, the wooden roller coaster that is actually two coasters in one that narrowly miss each other several times!
Enjoy Great Shows at Busch Gardens
Enjoy great shows, plus the cinema experience Pirates 4-D, a multi-sensory theatre experience for the whole family!


Madagascar Live! Operation: Vacation - This original show features the characters from DreamWorks beloved Madagascar franchise. The 20-minute musical show, follows the antics of Alex the Lion, Gloria the Hippo, King Julien, Mort and the Penguins during a holiday adventure. The show will feature rock/pop music performed by a live band and include both classic and original songs, with the characters also conducting meet and greets with park guests.


The show will compliment the popular shows and character experiences available at Busch Gardens – including Sesame Street Safari of Fun and Iceploration.
Dining at Busch Gardens Tampa
There are plenty of restaurants, snack bars and juice stands to choose from at Busch Gardens, therefore guests are politely requested not to take food and drink into the park.


Eat as much as you like with our BRAND NEW Busch Gardens All Day Dining ticket option.
Busch Gardens Tampa General Services
Busch Gardens has seven eateries, plus plenty of places to grab a quick bit to eat. Offering everything from a light sandwich to BBQ ribs!

Busch Gardens is just over an hours drive from Orlando, if you'd prefer to leave the driving to someone else, then all Busch Gardens inclusive multi park tickets include unlimited free bus transportation to Busch Gardens Tampa Bay. The service departs from SeaWorld® Orlando and various locations throughout the International Drive and Kissimmee areas. Reservations are a must and can be made by calling 1-800-221-1339 toll free once in Orlando. This service is subject to change.

Pushchairs, wheelchairs and ECV's are available for rental. Subject to availability.

Services include locker hire, first aid centre, gift shops, ATMs and plentiful charged parking.

Children under 3 years old enjoy free entry to Busch Gardens!

As a safety precaution, height restrictions apply on some rides and attractions at Busch Gardens.
BUSCH GARDENS OPENING TIMES
Busch Gardens Tampa is open all year round
Open from 9.00am (subject to change)
Closing times vary
Enjoy 14 consecutive days of unlimited admission to SeaWorld and Busch Gardens.

Free bus transportation to Busch Gardens on the Busch Gardens Shuttle Express is also included. The service departs from SeaWorld Orlando and various locations throughout the International Drive and Kissimmee areas. Reservations are a must and can be made by calling 1-800-221-1339 toll free once in Florida.
Please note:
Ticket expires 14 days after first use.

Tickets are valid in year of purchase only. This ticket is great value for money! Come and go as often as you please to any of the 3 parks within a 14 day period starting from the first time your ticket is used.
PLEASE NOTE: Waterparks are subject to close due to weather conditions without prior notice.