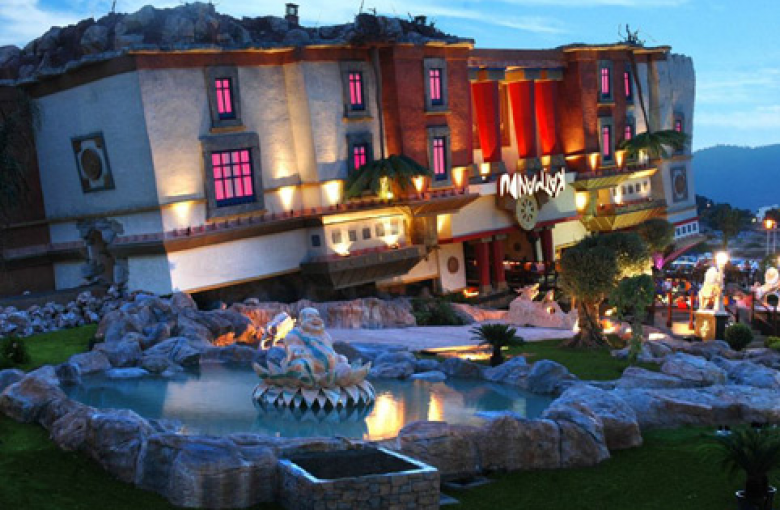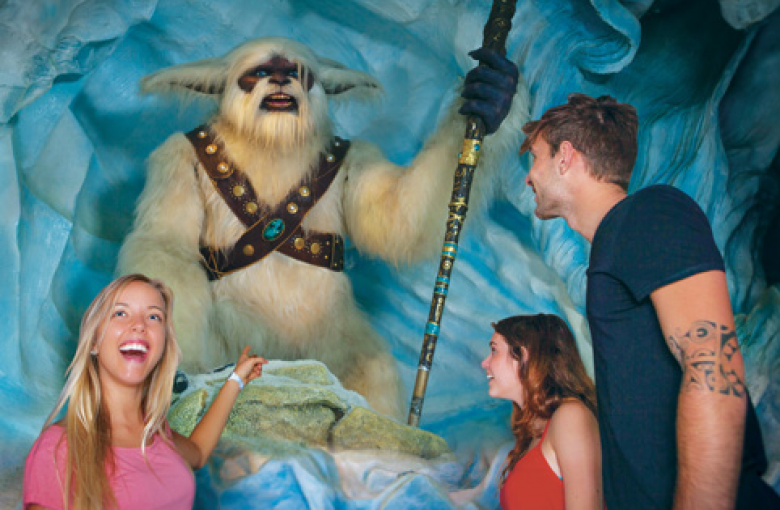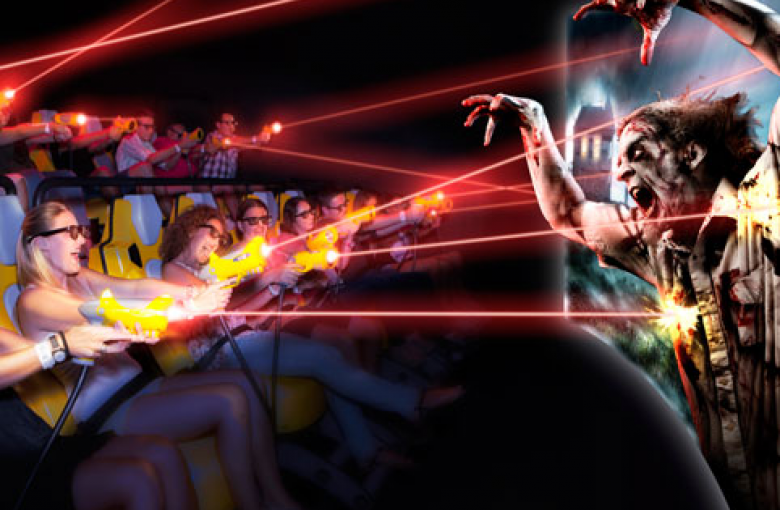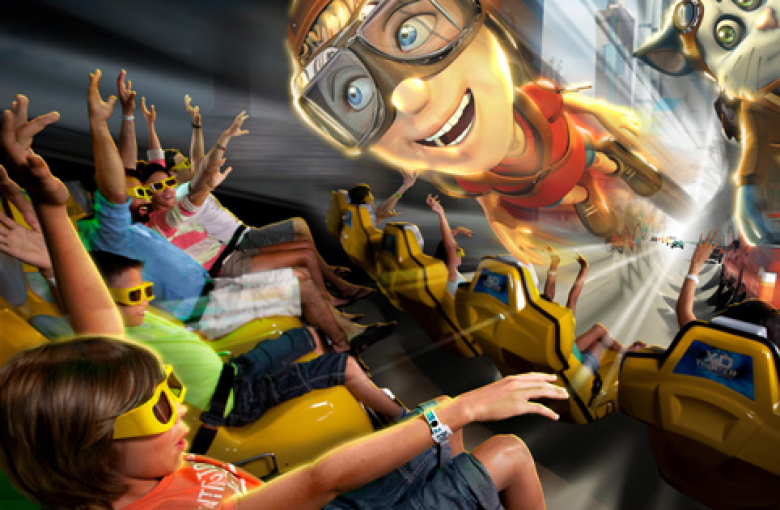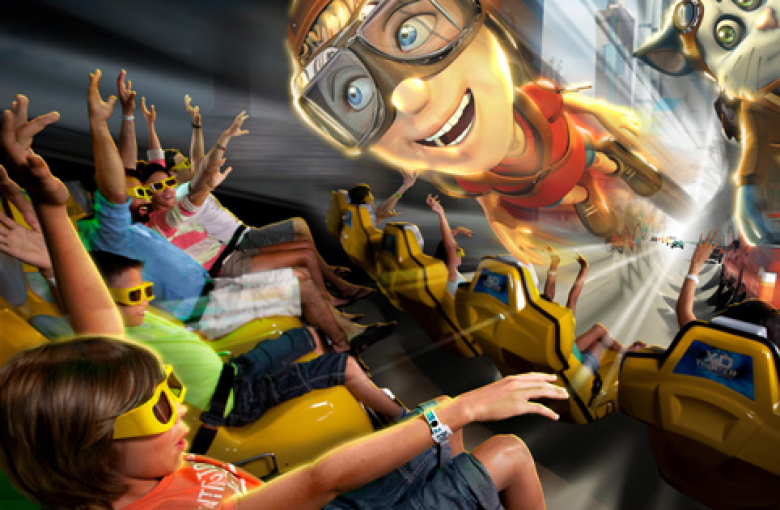 This is Majorca's only theme Park and has been voted by Trip Advisor as Spain's 3rd Best Amusement Park in 2016. This is a mega day out not to be missed and has something for everyone.
A massive Fun-House, that includes a Mirror Maze, Ice Cave with music machines, wind tunnel, interactive games rooms, enchanted forest, illusions library, robot room, 3D shark attack and many more surprises.
4D Experience. Specially designed seats give roller-coaster action; with up to 2G force.
Other attractions include:
XD Dark Ride is the ultimate life sized, interactive video game. With an individual scoring system, you can battle against zombies or mutant robots!
Asylum is an amazing 5D Haunted theatre experience. That is not for the weak hearted.
Expedition Mini Golf is anything but mini. Costing more than €3 million, this themed course offers 2 x mega 18 hole courses for serious fun, with a fire and ice course plus special effects.
Katmandu has its very own Katlantis Splash Park. Massive dump buckets, waterslides, canons and water jets for hours of fun! Don't forget your swimming gear.
Please note that the transport tickets only have departures on certain days and these days are dependant upon resort. Please read through the ticket details carefully before selecting which day to book these options.
The House contains eight elaborately themed rooms and has, of course, an upside-down exterior! Here, interactive adventures using the latest entertainment technology transport guests of all ages to the mythical land of Katmandu.
Katmandu Presents a 4D Motion Cinema Experience...
Katmandu is also home to the 4D Experience in Motion Cinema, a new generation of thrill ride that takes you into the realm of the Fourth Dimension (4D) and offers a variety of ride options. These short films include various environments to enjoy: "Journey to the Centre of the Earth", "Ocean Jungle", "Cosmic Coaster" or "Haunted Mine". There is also an animated feature especially for children called "Jett and Jin's Adventure". The specially designed seats simulate a thrill ride that transcends time, space and imagination. With unparalleled acceleration, the seats boast up to 2 G's of force and a hundred movements per second which are directly in sync with the different films thanks to state-of–the-art technology. Truly exciting and not for the faint hearted!
NEW - "The House of Magic": Join and adventure with a helpless kitten as he finds himseld inside a strange mansion filled with mysterious residents with no desire to make him welcome.
Expedition Golf Over the Glacier's Bridge, climb snowy peaks and explore the secrets of an ancient world while you play your way through our two challenging 18 hole mini golf courses. Fun for all ages by day or by night, EXPEDITION GOLF will test your courage in worlds of fire and ice…
The AsylumYour nightmare has only just begun in ASYLUM our first attraction for "Big Kids!" This paranormal experience will haunt you long after your have escaped from its dark interior. We dare you to take a journey through the ruins of an abandoned mental hospital, where the tormented once lived and their spirits remain. (Recommended + 12 years)
Desperados Saddle up into the heart of the action to become a gun-slinging deputy chasing the bad guys out of town. After your practice session shooting tin cans, the real action begins as you and your friends chase across the desert, shoot 'em up around a Wild West town and wind up in a wild saloon stand-off. This comical interactive motion ride experience even tallies scores to reward the most skilful shooter!
XD Dark RideImmerse yourself in the fantastic XD DARK RIDE – an interactive battle with a wrap around screen and surround sound that immerses you into the action. Three different action packed adventures make this a must-do ride experience!
Katlantis Mega Soft Play Adventure Kinds rule their own underwater themed soft play climbing zone.
Katlantis Splash Park Get soaked on the island's newest Splash Park for buckets of non stop fun!!
Sol Katmandu Park is located at Avenida Pedro Vaquer Ramis, 9 in Magalluf, next to the Sol Katmandu Park & Resort (Palma-Andratx motorway – exit 13)
Children under the age of 3 enter free!
Katmandu Park have restrooms and cafes or snack bars.
Katmandu Park also has a great gift shop!
Opening Times: The park is usually open between 10am and 6pm however during peak times it is open between 10am and 10pm. Please check locally for up to date opening times.
Transport Options and available days:
North and East
North:
April - Tuesdays and Thursdays.
May to October - Tuesdays, Thursdays and Saturdays.
Cala Millor: May, June, September and October - Wednesdays and Fridays. During July and August - Tuesdays and Thursdays.
Cala D'Or: May, June, July, August, September and October - Wednesdays and Fridays.
South
Arenal:
April - Tuesdays and Thursdays.
May to October - Tuesday and Friday
Calvia:
April and September - Wednesdays and Fridays
May to October - Mondays, Wednesdays, Fridays.
When booking the transport option tickets, please only book for a day where transport is available for that particular resort.
The VIP Passport ticket is an all-inclusive unlimited attraction package valid for one day ONLY. This ticket also includes transport from your resort, to and from the park.
This ticket also includes unlimited drinks and ONE combi menu per person. Soft Drinks, Water, Local Beer, Red and White Wine and tea/coffee. Combi menu meal available from Snack Shack.
Transportation is available from the following resorts: Cala San Vincente, Puerto Pollensa, Alcudia, Playas De Muro, Can Picafort, Colonia Sant Jordi, Cala Santanyi, Cala Figuera, S'illot, Sa Coma, Cala Millor, Cala Bona, Costa Los Pinos, Canyamel, Font de sa Cala, Cala Ratjada, Cala Mesquida, Porto Cristo, Calas de Mallorca, Cala Domingos, Cala Murada, Porto Colom, Cala Ferrera, Cala D'or, Cala Egos, Porto Petro and Cala Barca. Depending on which resort you are staying in, your pick up time will range between 08:00 - 09:30hrs. You will leave the attraction between 16:00 and 17:00hrs, which means you will get approx. 5.5 hours inside the park.
Transport Options and available days: North and East
North: April to October - Tuesdays and Thursdays.
Cala Millor: May, June, September and October - Wednesdays and Fridays. During July and August- Tuesdays and Thursdays.
Cala D'Or: May, June, July, August, September and October - Wednesdays and Fridays.
The attraction is open from March - October on various days throughout the season. PLEASE NOTE - some rides and attractions will be closed at certain times of the year, and also due to essential maintenance.