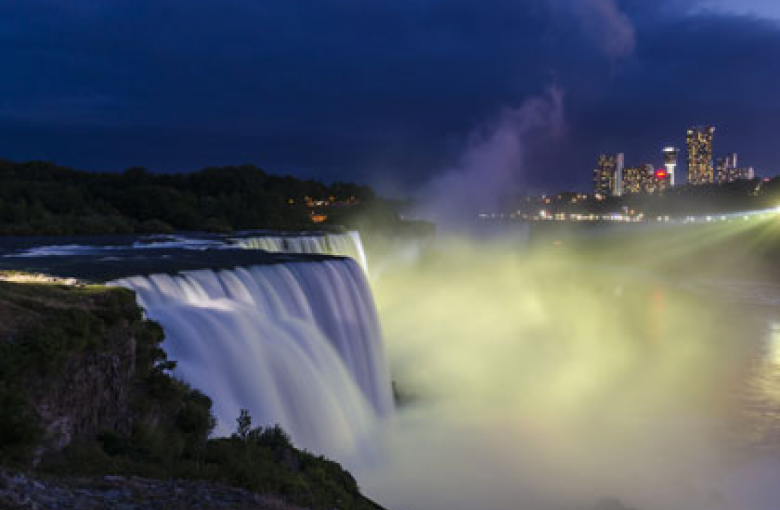 This unmissable two-day tour allows you not only to experience the wonder of the Niagara Falls, but also to see some breathtaking scenery on the way!
Day 1:
You'll leave New York and head north past the beautiful Delaware Gap to Watkins Glen State Park* in the heart of the Finger Lakes region. Enjoy a walk through Watkins Glen Canyon to visit the waterfalls and then, passing by Seneca Lake, arrive at Niagara Falls in the late afternoon.
You'll start by touring the American side of the falls including Goat Island and Luna Island, then at night we will discover the Canadian side. Accommodation is provided on the Canadian side of the falls at the Wyndham Super 8 Hotel.
Day 2:
After some well-earned rest, the next day begins with the Maid of the Mist boat tour (May-Oct) or the Scenic Tunnels tour (Nov-April). At noon you'll start the return journey to New York State. On the way to NY you can enjoy a shopping experience like no other at one of the largest malls in the state - bargains guaranteed!
If you travel by land or sea, you do not need an eTA (Electronic Travel Authorization). For information on visiting Canada as a Tourist, please visit: http://www.cic.gc.ca/english/visit/visas.asp
You must travel with acceptable Travel documents and identification at all times.
*Please Note: During the winter season you will go to Montour Falls instead of Watkins Glen State Park.
Special Information
Departs Mondays, Tuesdays, Thursdays and Saturdays only.
There is no hotel pick-up as this Tour leaves from 1 central New York location.
Tour leaves at 7am from 777 8th Avenue (Gray Line Visitor Center).
Please be at the pick-up point at least 15 mins prior to Tour departure.
Arrive back in NYC approximately 7:30pm the next day.
Please note: The price is PER PERSON based on a Triple room occupancy. Children require to share the room with adults. Please select the correct amount of adults/ children per room type.
Wyndham Super 8 Hotel's facilities include: 2 swimming pools, a small gym, TV's and a restaurant.
TOUR INCLUDES:
1 night hotel including tax.
Continental breakfast.
Air conditioned Van or Bus.
Professional Tour Guide
Sightseeing in Niagara-Falls
Admission to the Maid of the Mist (Summer) or Scenic Tunnels (Winter).
During the winter months (Nov – March) there are luggage restrictions: Luggage is limited to one piece per person with the following dimensions: 21" X 12" X 12" (46cm x 30cm x 30cm) and a maximum of 22 pounds (10 kgs).
Please note: This Tour is available to passengers with no Canadian Visa as these passengers will be accommodated on the USA side of the falls.