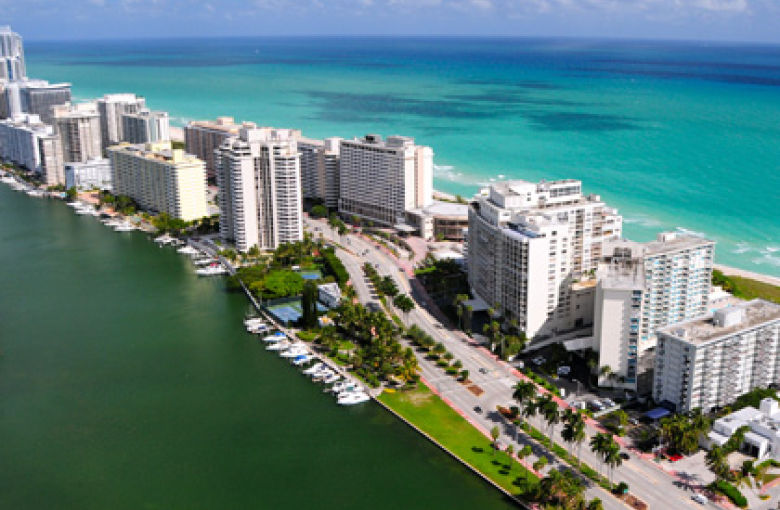 This is a great introduction to the sizzling melting-pot that is Miami, visiting some of its most well-known areas.
Spend time in the famous Bayside Shopping Mall, situated right on the waterfront and frequented by many yachts. Plus a visit to South Beach with its Art Deco galleries, museums and shops is an absolute must!
Highlights
Don't miss this day excursion of Miami - one of the most upbeat cities on Florida's East Coast. This world-famous city has received much press in the last year as home to the MTV Music Awards and beach parties.
Visit the famous Bayside Shopping Mall, outside which you'll sometimes see more yachts parked than cars!
Enjoy some free time in this bustling waterfront shopping centre hunting for bargains, watching the stunning boats or visiting the Hard Rock Café Miami – it's totally up to you!
You'll also have the opportunity to take an optional Star Island Cruise (not included in price). This city tour by water gives you great views of the city skyline and the homes of stars such as Mr. Parker of Parker Pens and Gloria Estefan.
Your next stop is the world-famous South Beach on Ocean Drive. Here you'll have ample free time to explore this beautiful area, visit the Art Deco galleries, museums and shops or simply enjoy the beach!
Please Note: You'll have approx. 3 hours of free time at both Bayside Mall and South Beach
Clothing: We recommend casual, comfortable clothing and swimwear.
What to Bring: Camera, sunscreen, beach towels and any beach equipment required.
When you've Booked: You'll receive an initial confirmation from us immediately. We will then send you the specific details within 48 hours once they are confirmed with our supplier. This will include the local operator's contact details and any further information.
Availability: This tour is available every Sunday and Thursday.
Transfers: Roundtrip transportation is provided from select locations within the Orlando, Kissimmee and Disney Areas
Departure Time: You'll depart Orlando at approx. 7am.
Return Time: You'll depart from South Beach at around 6pm.
Duration: Please allow a full day for this trip.
Included: A packed breakfast is included to eat at your leisure.
Not Included: The Star Island Cruise is an optional extra and is not included in the price.