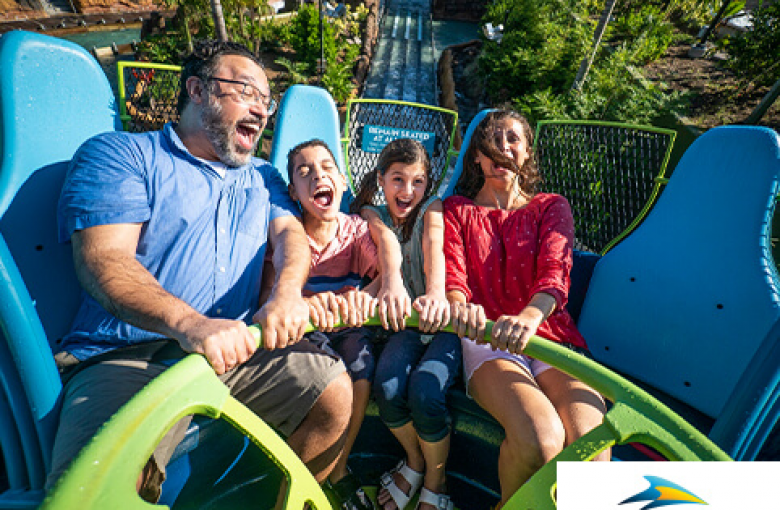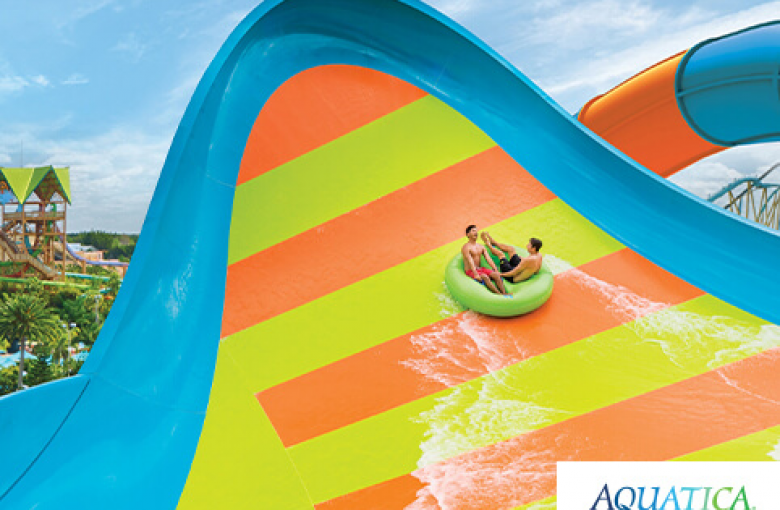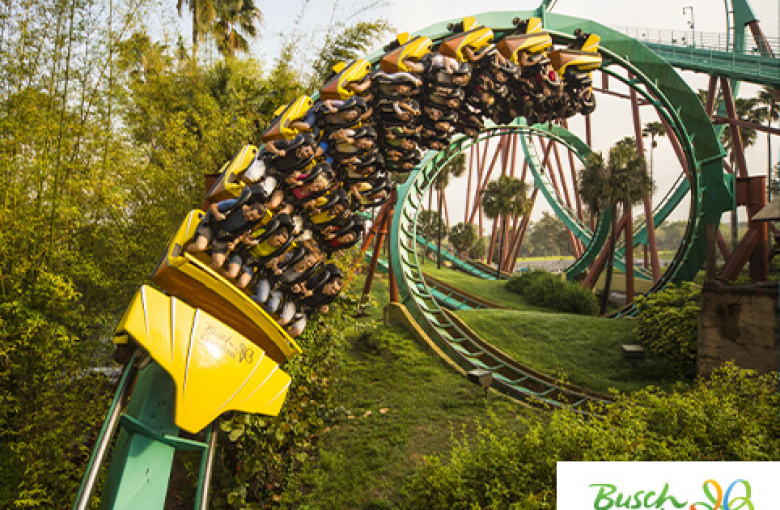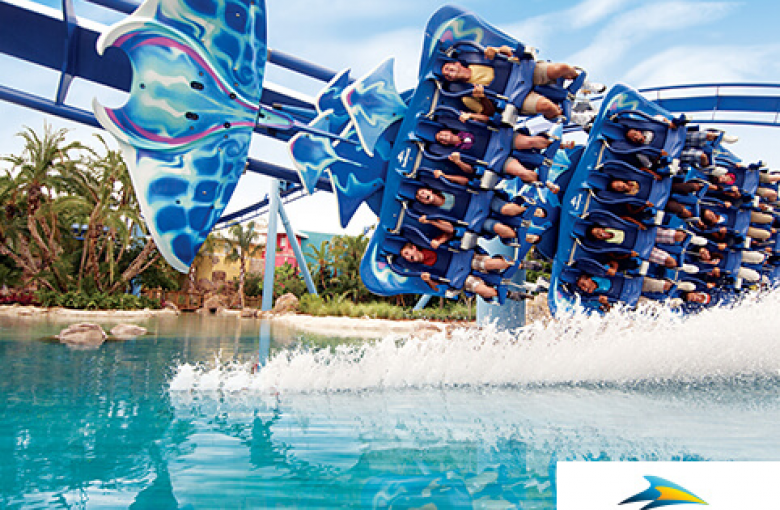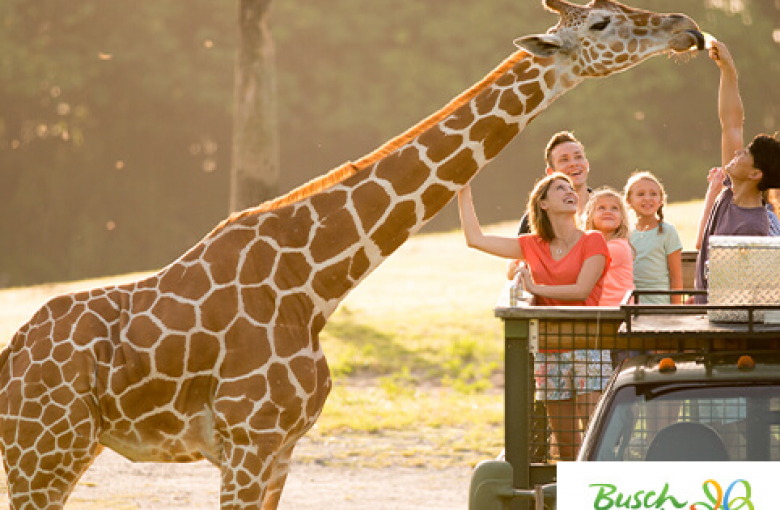 At SeaWorld Orlando, Florida's wonderful marine-animal theme park, you can meet Shamu®, the world-famous killer-whale, experience Orlando's tallest and only floorless rollercoaster and enjoy spectacular award-winning shows as you indulge in fine-dining. Explore an underwater tunnel with sharks and mysterious sea-creatures for company, and take an exhilarating Journey to Atlantis®.
And only at SeaWorld can you experience One Ocean - the all new energetic and exciting Shamu show, set to inspire and educate you all.
With our unbeatable value SeaWorld Orlando tickets, enjoy breathtaking rides, out-of-this-world animal attractions, great shops, superb dining and exciting live-shows. At SeaWorld Orlando you'll make memories that will last a lifetime!
Something is stirring beneath the surface at SeaWorld Orlando, preparing to rise from the ocean depths and soar to thrilling new heights. Get ready for the frenzy of SeaWorld's new 200-foot-tall coaster, Mako™. In 2016, this thriller will take its place atop the food chain as Orlando's tallest, fastest and longest coaster. Follow #nothingfaster as the frenzy starts.
Now open!! SeaWorld's First Virtual Reality Roller Coaster, Kraken Unleashed VR!
New! Experience Kraken in a whole new way. Kraken will now feature custom digital overlay with uniquely designed virtual reality headsets, fully integrated both mechanically and electronically into the coaster train which will deliver a new one-of-a-kind adventure.
Orlando's only floorless roller coaster – is themed after a massive, mythological underwater beast unleashed from the depths of the sea. Riders' feet dangle as they travel in open-sided seats, riding on a pedestal above the track at highway speeds to heights of more than 150 feet.
YOUR NEXT ADVENTURE - The World's Tallest River Rapid Drop Coming Summer 2018
Calling all explorers! Are you brave enough to embark on an expedition through Infinity Falls?
Explore the base camp set up by those who first made the discovery, and then climb aboard your raft and unearth the secrets of this lost rainforest river. Keep your wits about you as you pass drenching fountains and waterfalls. Hold on tight! The roaring rapids look like they might just send you flying over that huge drop!
Don't forget to check out the Behind the Scenes Tour which makes a great add-on to your SeaWorld adventure.
PLUS do take a look at our BRAND NEW SeaWorld All Day Dining ticket option below.
PLEASE NOTE - In order to make way for a new attraction at Aquatica, HooRoo Run will close permanently on 31 October 2017. To accommodate construction, Walhalla Wave will temporarily close on this date and re-open in spring 2018 alongside Ray Rush.

© 2017 SeaWorld Parks & Entertainment Inc. All rights reserved.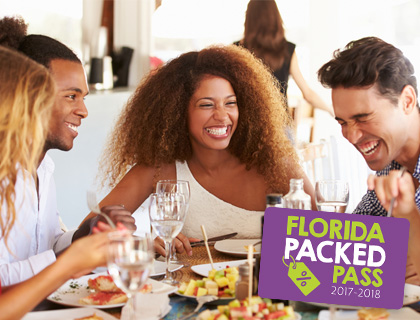 Make huge savings in Orlando with our EXCLUSIVE freebie!
For a limited time only, we're giving away a FREE Florida Packed Pass e-card with all key Florida parks bookings. The Florida Packed Pass gives you massive savings on dining, shopping and activities at over 100 different venues in Florida!
Each e-card can be used for up to 4 people, as many times as you like! Just flash your card and watch the $$$'s drop off...
Tell me more...
Your customers will automatically receive the free e-card with their e-tickets when they purchase any of the following:
Walt Disney World Resort in Florida

Universal Orlando Resort™

SeaWorld® Orlando

Aquatica™ Orlando

Busch Gardens® Tampa

Discovery Cove® Orlando

Our combo tickets are also included!
Want to check out all the deals and offers available? Follow this link www.floridapackedpass.com
For full details, and to download our offer poster, please CLICK HERE >
T&C's: Valid on all 2018 bookings. 1 card per booking.1 card is valid for up to 4 people only. Limited stock offer.
Now open!! SeaWorld's First Virtual Reality Roller Coaster, Kraken Unleashed VR!
New Experience Kraken in a whole new way. Kraken will now feature custom digital overlay with uniquely designed virtual reality headsets, fully integrated both mechanically and electronically into the coaster train which will deliver a new one-of-a-kind adventure.
NEW Clyde & Seamore Sea Lion Show
Comedic sea lion duo, Clyde and Seamore, star in SeaWorld Orlando's newest show, Clyde & Seamore's Sea Lion High, based on an American high school.


The show sees Clyde and Seamore in slippery pursuit of their high school diplomas with plenty of slapstick and high energy pranks. When joined by mischievous otters, a 164-stone walrus and a cast of human characters swimming along in the fun, it certainly won't be a normal class.
One Ocean®


Majestic killer whales join you on a journey into a world that drenches your senses in vivid colours, vitality, and the global rhythms of the ocean in our all-new Shamu show, One Ocean®. Dancing fountains set the stage as you connect with thrilling sea creatures, feel the energy and spirit of life underneath the sea, and realize that we are all part of one world, one ocean.
TurtleTrek


TurtleTrek stays true to SeaWorld's unique blend of nose-to-nose animal encounters and state-of-the art entertainment. Get up close to sea turtles and manatees then be immersed in a sea turtle's epic journey with the world's first 3-D, 360-degree movie in a domed theatre. Experience a turtle's eye view of the ocean's wonders and get inspired to be everyday heroes who can make a difference in nature.

The Animals at SeaWorld Orlando
The marine-life attractions at SeaWorld Orlando are as varied and colourful as the oceans themselves. Don't miss the Penguin Encounter®, Stingray Lagoon®, Shark Encounter® and the loveable inhabitants of Dolphin Cove® and Dolphin Nursery®. Meet the seals at Pacific Point Preserve®; and enjoy the beauty and dazzling colours of tropical fish in the Jewel of the Sea Aquarium.

SeaWorld Orlando – The Rides!
Shamu's Happy Harbor®, packed with mini-rides and coasters, guarantees hours of fun for little ones at SeaWorld Orlando. For the brave and fearless is a 15-storey plunge and 7 heart-stopping inverted loops of the monstrous rollercoaster, Kraken®... and when you've recovered your nerve, lose it again on Journey to Atlantis, the wettest, steepest water-rollercoaster of them all!

Discover the world of Manta...
...and fly face-down through sea and sky. The next generation of SeaWorld thrills in a new mega-attraction that combines up-close animal encounters with an innovative flying coaster.

The SeaWorld Orlando Animal Shows
The fantastic shows at SeaWorld Orlando, like the One Ocean show with Shamu, are spectacular, colourful and memorable. With all of those mentioned included in our SeaWorld ticket price, including Blue Horizons®, the show where the sea meets the sky with soaring birds and graceful, acrobatic dolphins. And take a break for laughter, watch sea-lions, otters and a comical walrus in the hilarious Clyde and Seamore Take Pirate Island®!

SeaWorld is the world's leading marine park, offering exciting rides, spectacular shows and up-close animal encounters – but there's also another very important side of SeaWorld to be told – SeaWorld's 50-year commitment to conservation, evolutionary research and inspiring millions of people to learn about and appreciate the natural world.
Watch this short film to find out more.
Accessibility at SeaWorld Orlando
SeaWorld Orlando work hard to ensure wheelchair users have access to rides, attractions and facilities.Wheelchairs and motorised scooters are available for hire at a nominal charge.
Facilities at SeaWorld Orlando
Facilities at SeaWorld Orlando include plenty of parking, pushchair hire, locker rental, first aid centre, ATM machines.


Children under 3 years old enjoy FREE admission to SeaWorld Orlando!


For safety reasons, height restrictions apply to some rides and attractions at SeaWorld Orlando.
What's nearby
SeaWorld is just across the street from Aquatica and Discovery Cove is also nearby.
PLEASE NOTE: If you have an infant (any child under 2 years of age) attending the Dine with Shamu experience you MUST call us to advise. Failure to do so may cause your booking to be cancelled in resort. Please call us on 0871 700 8888.
Enjoy 14 consecutive days of unlimited admission to SeaWorld and Busch Gardens.


Free bus transportation to Busch Gardens on the Busch Gardens Shuttle Express is also included. The service departs from SeaWorld Orlando and various locations throughout the International Drive and Kissimmee areas. Reservations are a must and can be made by calling 1-800-221-1339 toll free once in Florida.
Please note:
Ticket expires 14 days after first use.


Tickets are valid in year of purchase only. This ticket is great value for money! Come and go as often as you please to any of the 3 parks within a 14 day period starting from the first time your ticket is used.
PLEASE NOTE: Waterparks are subject to close due to weather conditions without prior notice.