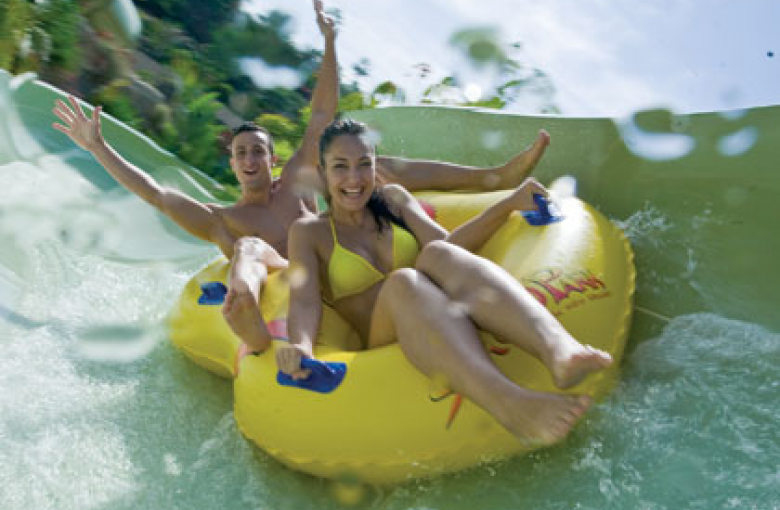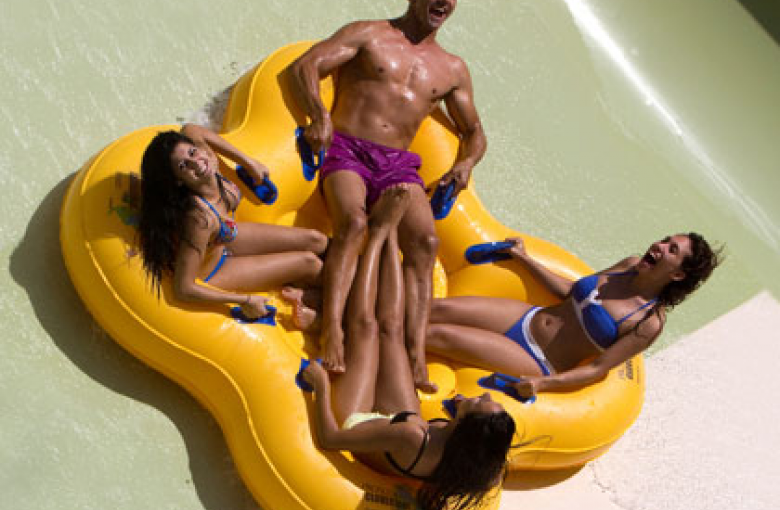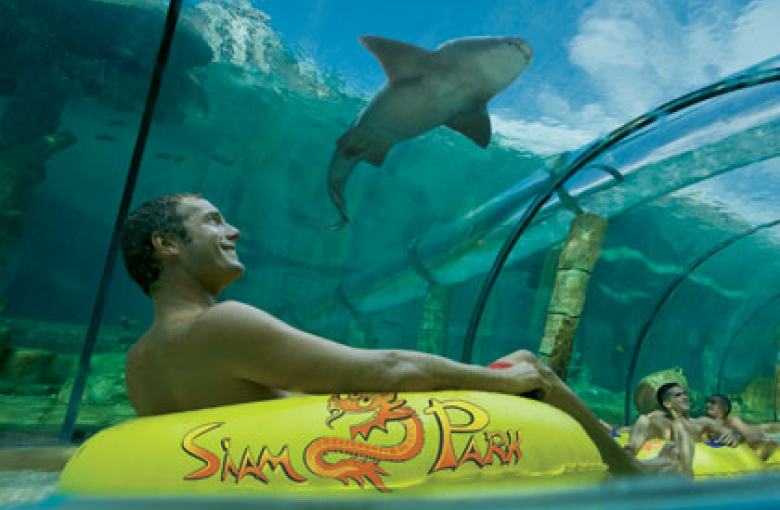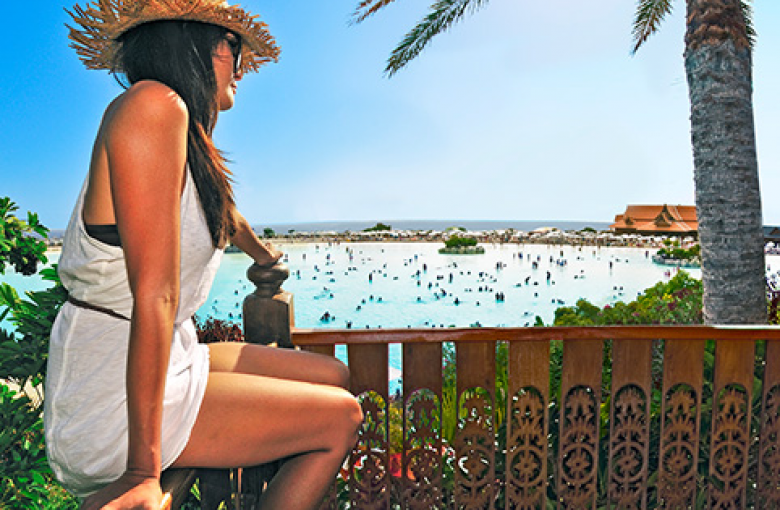 Siam Park – heralding a record breaking new era in water park history!
Set amongst nearly 18 hectares of lush tropical greenery in the south of Tenerife, Siam Park is themed on the ancient kingdom of Thailand.
It includes the largest Thai village outside of Thailand, a surf school, incredible water rides, bars, restaurants and many family friendly heated-water attractions including a traditional Thai style floating market.
Following the success of past events, Siam Park reopens its doors at night so that visitors can experience the most exciting adventure of the summer. Siam Park will be open every Friday and Saturday in July and August! Visitors will be able to enjoy all the attractions and services of the park from 20.00 to 24.00h!
PLUS - Skip the line at the entrance to Siam Park with ALL of our tickets! Benefit from no queueing when you arrive at the Park for entrance only. Pre book today!
Please Note:
Just enter the date of your departure for Tenerife. You can then decide when you want to visit the parks when you are in resort except for Cabanas and Villas where you will need to select the day you actually want to stay in the Cabana/Villa.
If you are booking more than one date for the park, please book them individually and not on the same reference. Failure to do so may result in not being able to enter the park.
NEW! You can now use the barcode on your e-ticket (via your smartphone) to gain entry to the parks!
You are not permitted to take your own food and beverage into Siam Park. You may take your own food into Loro Parque, and are welcome to use the picnic areas.
PLEASE NOTE - If you are booking more than one ticket option, then you MUST make a separate booking for each ticket type. Failure to do this may result in non confirmation of one or both reservations, resulting in issues upon arrival at the Park(s).
Please note that the parks reserve the right to change prices / discounts at any given time and due to routine maintenance to close attractions for a period of time. In any case notification of such events will be communicated at the ticket office.
Both Siam Park and Loro Parque reserve the right to close rides without prior notice. In this instance no partial refunds will be provided.
Please Note: weight restrictions do apply on certain attractions within the park. Please check locally for more detailed information.
E-tickets must be printed. Tickets in digital format (smart phones or tablets) cannot be accepted.
Wave Palace!
One of the attractions at Siam Park is the Wave Palace, complete with white sand beach.
The waves in this beautifully themed pool reach an incredible 3 metres high, making it the highest wave pool in Europe.
River Sawasdee !
As the longest river ride in the world, River Sawasdee is the perfect way to enjoy a lazy afternoon drifting downstream, admiring the stunning scenery as you pass.
Tower of Power!
If you prefer something more energetic, how about Siam Park's terrifying Tower of Power, which includes an incredible 28 metre drop with a special sting-in-the-tail finale!
The Jungle Snakes!
Take your pick from one of the four entwined snakes that will take you through a jungle of adventure.
Enjoy the thrill of speed with the warm wind blowing past your face as you slip and slide down the Jungle Snake into the splash pool finale!
Each slide is different and gives the riders a unique view of the Park.
The Volcano
Spin round in an enormous crater as if caught in the flow of lava!
Four riders sit facing each other in this high energy ride that's perfect for thrill seekers.
As the lights fade, the ride speeds up and you will enter the mighty volcano, spinning around in the darkness that adds to the excitement and mystery until you move through the centre to the landing pool.
The Giant!
Enjoy the thrill of the ride with your family and friends on one of Siam Parks most popular rides 'The Giant'
The exquisite image of the 'Temple Guardian' will transport you into a world of adventure and mystery as you ride round and experience the force of gravity in a powerful twin cyclone.
Mekong Rapids!
The Mekong Rapids have been designed to create excitement and laughter for family and friends who want the thrills without too much of an adrenalin rush.
When you ride the Mekong Rapids you find yourself careering through the rushing waters in family sized rafts. Be prepared to get wet, even before you reach the splash pool below!
The Dragon!
This one-of-a-kind thrill seekers ride begins in the tunnel and a full 45° drop which will see you and your companions accelerating into the gigantic funnel at high speed.
You are then propelled high up on to the opposite side of the Dragon for a truly zero-gravity experience.
Naga Racer
Challenge your family and friends to a race on the Naga snakes!
The Naga Racer comprises of six crazy lanes of running water waiting to whisk you down the hillside head first.
So grab a mat and hold on tight.
Sawasdee Childrens Zone
This new childrens area brings smaller versions of the adult rides to the Park's younger visitors.
The Sawasdee zone will appeal to families and children who want to share all the fun and excitement of the adult slides.
A jungle of emotion with 4 different slides, 2 of them specially designed for racing and to test the skill and dexterity of the children, a mini water slide track for up to 4 children at a time and a smaller replica of the Dragon, one of the most popular attractions in the park.
Lost City
Lost City at Siam Park consists of water towers, waterfalls, bridges and nets, water games, slides and a host of fun things to keep them happily splashing around for hours.
And in the meantime, you can take the opportunity to relax and enjoy the sunshine, free sunbeds and parasols amid this most beautiful oriental setting.
NEW!!!!! Due to open this Summer an exciting new ride - the only one of it's kind in the World....... Watch this space!!!!
To view the Siam Park bus service route map, please click here.
PLEASE NOTE - all bookings will be on a request basis and we will endeavor to confirm your reservation within 72 hours. If your chosen date is not available then you will be offered the nearest possible alternative.
Siam Park continues to surprise its visitors this summer and opens its new private villa in which groups of up to 15 people can enjoy the Water Kingdom in a unique and exclusive way. This spacious villa with jacuzzi is a microenvironment within the park and has been designed with meticulous taste and style for special events like birthdays, parties, business meetings or family gatherings!
Upon arrival at Siam Park, please proceed through the main entrance and make yourself known to a member of Siam Park staff. You will then be greeted by your host who will provide you with your all-inclusive VIP wrist bands which will give you access to the Beach Bar, Beach Club, Thai House, Thai Bar and Ice Cream (this service includes: beer, soft drinks (Orange/Lemon, 7up, Diet 7up, Pepsi, Diet Pepsi, Tonic water), water, ice-cream and anything from the menu. Sweets, chocolates, cocktails and spirits are not included. The all-inclusive wrist band does not include the Floating Market area, shops, mini market and Tea House. All clients on the all inclusive service will be requested to sign their receipts when making their "purchases" in the bars and restaurants, but please note, no monies will be requested from you.
Siam Park has one private VIP Villa. The Villa has capacity for eight people, up to a maximum of fifteen. The service includes: entrance tickets, use of the private Villa as well as its outside jacuzzi, during the park's opening hours, fast-pass access to all attractions (except the Tower of Power) and a limited all-inclusive service. The Villa has 10 sunbeds, an outside jacuzzi, a shower on the terrace, floats, towels, a fan, sofas, TV and DVD player, a safe and minibar stocked with soft drinks, water plus beer & wine. As well as a fabulous view of the park and Costa Adeje.
The standard price for the VIP Villa is based on 8 people. Every extra person (up to a maximum of 15) will be charged for at an additional rate at the time of booking.
Along with your voucher, please present a form of photographic ID
The name on the identification MUST match the name on this voucher.
You can only use your Villa on the date specified at the top of this voucher. Once confimed, no amendments are permitted. 100% cancellation will appy.
FREE Siam Park Buses operate between Los Cristianos, Playa de las Americas, Costa Adeje, and Siam Park. Check schedules in resort for pick-up times.
Please note that the parks reserve the right to change prices/discounts at any given time, and due to routine maintenance attractions may close or be subject to availability for a period of time. In any case notification of such events will be communicated at the ticket office.