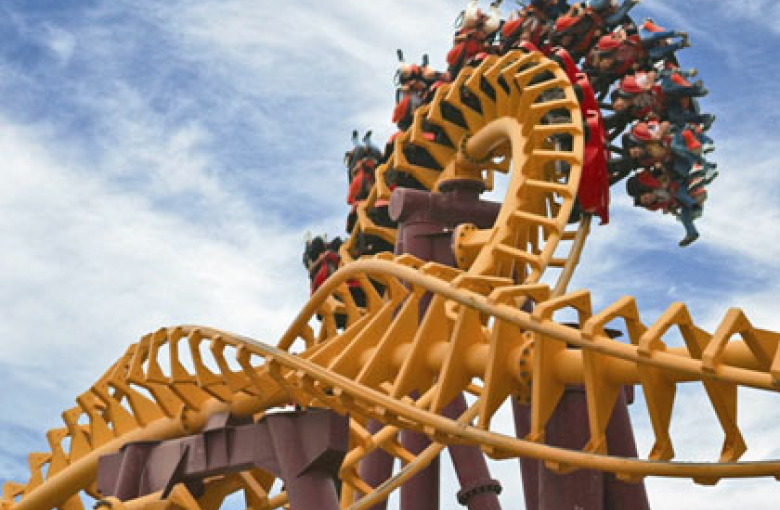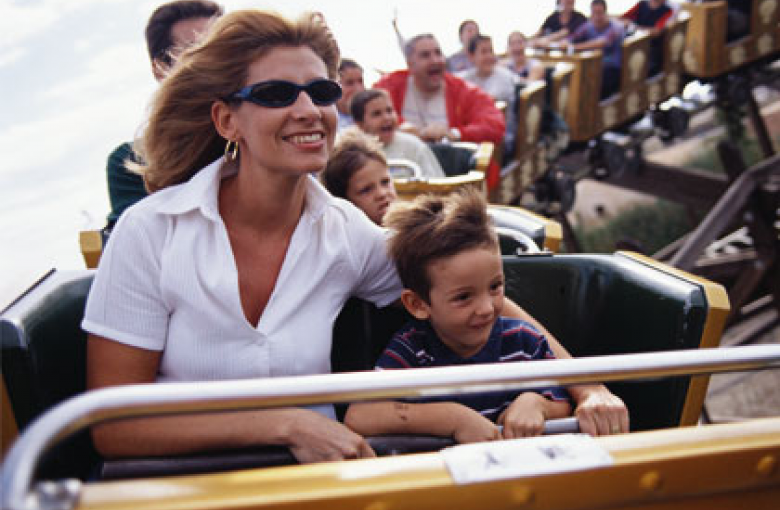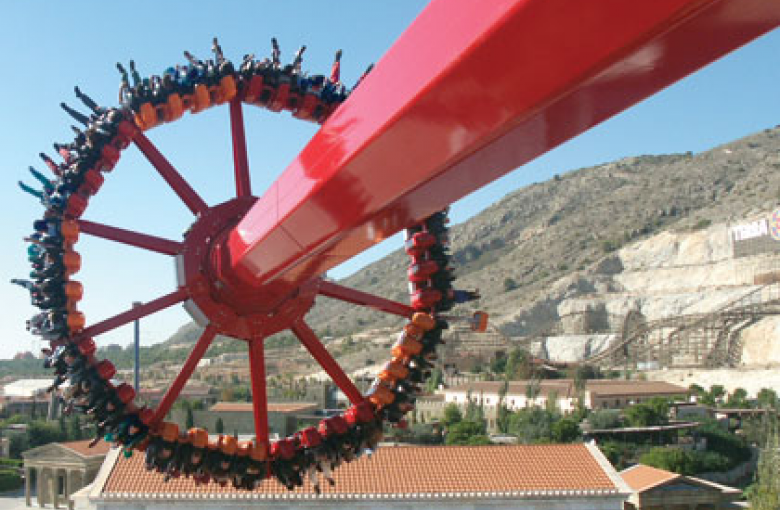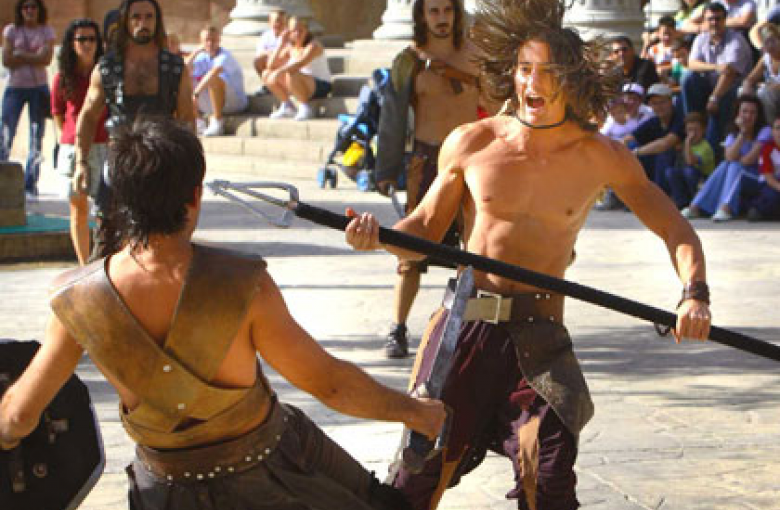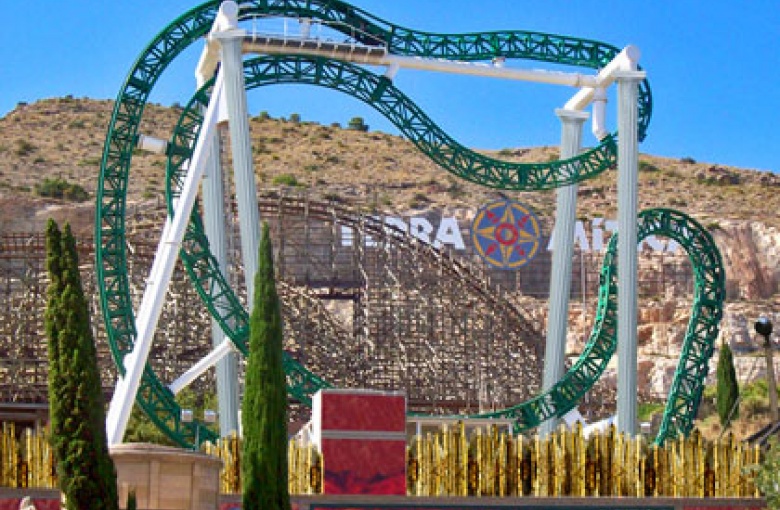 Inspired by the five civilisations of the Mediterranean, Benidorm's Terra Mitica theme park will take you on an incredible journey back through the mists of time to the Egypt of the Pharoahs, Ancient Greece, the glory of Rome, Iberia's pirate past and the Mediterannean Islands of myth and legend.
As well as its many rides and attractions, Terra Mitica boasts no less than 20 fantastic live shows with a cast of over 300 actors and dancers. Let them entertain you, but watch out for the pirates!
Of course a great theme park would not be complete without great rollercoasters and rides and Terra Mitica does not disappoint.
Accept the mission to ride the awesome Rescue of Ulysses if you dare or tackle Europe's largest wooden rollercoaster - Magnus Colossus!
And if you have 35 seconds to spare, board Tizona for an adrenaline filled ride of death-defying nosedive falls, 360º loops and corkscrew turns!
To view 2018 calendar, please click here >
IBERIA PARK
Iberia Park is an area adjacent to Terra Mitica where you will be able to enjoy shows and attractions. It is only open during July and August and is not included with this ticket, therefore if you wish to enjoy this park also then you must purchase your ticket at Terra Mitica.
Iberia Park has more than a dozen family attractions, two amazing shows and 8 restaurants/bars designed to enjoy with your family. Transport yourself to a world of legend in The Rescue of Ulysses and get carried away by the current in the Rapids of Argos. Boars, rams, endless attractions for the "kings of the house" and many more surprises will complete the perfect day of fun without limits offered at Iberia Park.
Halloween Night 2018
Between 6th October and 31st October Terra Mitica will celebrate Halloween with exclusive attractions and events planned to make your visit even more thrilling - If you dare?
And on Halloween night, in Terra Mítica you will live a "guts and fun" night. Enjoy a feel scared inside the exclusive tunnels of horror "Necrotwon", "El Último Rito" and "La Maldición de Plutón" (from 8pm).
Open until midnight! Do you dare????
Go On. You're on Holiday!
Treat yourself to an action-packed day the Terra Mitica way, with our great Terra Mitica tickets!
Avoid the Crowds
Visitors to Terra Mitica tend to follow a natural route starting at Egypt, through the other civilisations and ending in Rome. To avoid the crowds, make Rome your starting point and work backwards.
A Different Experience
A rollercoaster ride experience is dramatically different when seated at the front or back. Try them both by riding twice!
Food and Drink
You cannot bring food or drink into Terra Mitica. However, with 21 food outlets spread generously throughout the park, you won't go hungry!
Children...
Children under 4 go free at Terra Mitica.
Something for Everyone!
Terra Mitica is thoughtfully designed with everyone in mind providing extreme rides for adrenaline-junkies, entertainment and fun for young families and even scaled-down replicas of the scariest rides so that the little ones don't feel left out.
Dozens of Rides at Terra Mitica
There are more than 25 rip-roaring rides designed to splash you, swing you and spin you upside down in ways you never dreamed possible!
Coasters Galore!
There is Magnus Colossus - the longest wooden coaster in Europe and the Tizona rollercoaster - a 360 degree looping, 35-second nose-diving, corkscrew-turning adrenaline rush!
And Water Rides Too
And if you need to cool down? Get thoroughly soaked on Cataratas del Nilo, a log flume that drops you 20 metres over a waterfall edge! And if that's not enough, as you recover from the shock it drops you backwards too!
Spectacular Live Shows...
If you need a break from the non-stop action, let others entertain you for a while with lasers, lights, water and fire used in more than 80 daily, live show extravaganzas!
...and Non-Stop Entertainment
The legendary Terra Mitica live shows feature more than 300 professional actors, singers, musicians and dancers performing spectacular action-packed battles scenes and gripping rescue-missions throughout the day.
Restaurants and Shops
Each ancient civilisation has plenty of shops selling tempting themed goodies as well as numerous cafes and restaurants offering mouth-watering menus.
The night of October 31, in Terra Mitica "Extinction". Enjoy a terrific dinner with the rest of sinister characters in Terra Mitica. That night, there will be exclusive passages of terror, night games, attractions and many more surprises. Until midnight. Do You dare?
Not to die . . . Of hunger!
Who can resist a succulent "Zombie Festival"? Become one of the dinner guests of this deadly feast.

Adult's menu
Vipers salad
Salad with prawn
******
Tomb beef
Beef cheeks with potatoes and red wine sauce
******
Chocolate coffin
Chocolate cake with english cream
Food will be served in Burguer Mítica and Pica Picae

Children's Menu
Underworld tears
Cajun chicken with vegetables
or
Ghost pizza
Ham, cheese and mushroom pizza with gouda cheese ghost
******
Witch hat
Chocolate and vanilla Cup Cake
Ticket Information
Enjoy the best parks in Benidorm with 1 Day access to Terra Mitica, Aqualandia and Mundomar.
Clients will be able to enjoy a whole day at each of the parks.
Tickets valid in year of purchase only.
Aqualandia Benidorm is the largest water park in the Costa Blanca with masses of attractions from high-adrenaline rides to languid and lazy lagoons. Perfect for a day of family aquatic antics in the hot Mediterranean sun.
Mundomar Benidorm is a theme park conveniently situated right next door. Mundomar is packed full with water-loving animals including penguins, dolphins, sea-lions and more, all in beautiful natural habitat surroundings.